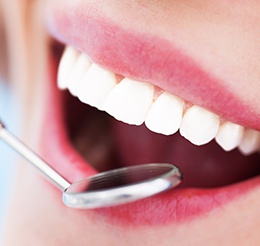 What is Periodontics?
Our periodontists specialise in dental implants and in the diagnosis and treatment of periodontal (gum) disease. They have completed additional years of education beyond dental school, a university post-graduate doctorate specialty program in periodontics.
What is Periodontal disease?
Gingivitis
Periodontal disease can affect one tooth or many teeth or implants. It begins with gingivitis (a non-destructive periodontal disease), which is an inflammatory response (body's host response) to bacterial biofilms (also called plaque) adherent to tooth surfaces.
The symptoms of gingivitis are somewhat non-specific and include swollen and red gums, gums that are tender or painful to the touch, and bleeding gums or bleeding after brushing. Gums may also appear shiny when the gum tissue becomes swollen and stretched over the inflamed underlying connective tissue (loss of stippling). There is usually little or no discomfort. Gingivitis is reversible with professional periodontal disease treatment and good oral home care.
Periodontitis
Untreated gingivitis can advance to periodontitis. Periodontitis involves progressive loss of the alveolar bone around the teeth, and if left untreated, can lead to the loosening and subsequent loss of teeth.
With time, microorganisms that adhere to and grow on the tooth's surfaces can spread and grow below the gum line. Toxins produced by the bacteria along with an overly aggressive immune response against these microorganisms causes bone loss around the teeth.
Gums separate from the teeth, forming periodontal pockets (spaces between the teeth and gums) that become infected. As the disease progresses, the periodontal pockets deepen and more gum tissue and bone are destroyed. Often, this destructive process has very mild symptoms. Eventually, teeth can become loose and may have to be removed without periodontal disease treatment.
Types of Periodontal Disease
Gingivitis
Chronic periodontitis
Aggressive periodontitis
Periodontitis as a manifestation of systemic disease
Necrotizing ulcerative gingivitis/periodontitis
Abscesses of the periodontium
Combined periodontic-endodontic lesions
Severity
The severity of disease refers to the amount of periodontal ligament fibres that have been lost, termed clinical attachment loss. According to the American Academy of Periodontology, the classification of severity is as follows:
Mild: 1–2 mm of attachment loss
Moderate: 3–4 mm of attachment loss
Severe: ≥ 5 mm of attachment loss
More Information
For Dentists