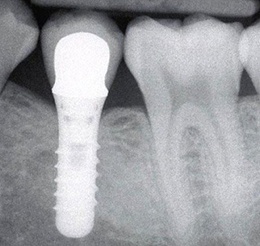 What is a Dental Implant?
Dental implants are a 'screw' made from titanium which is used to replace the roots of our teeth. Cells from our bone do not perceive titanium as foreign and when successful integration occurs, the implants can become foundations for the crown/bridge to be restored to replace your missing teeth. Dental implants can also be foundation for loose dentures as well.
Two components of dental implant treatment
1: Surgical phase of treatment – minor surgery is required to insert the dental implant into the jaw bone. This phase of treatment may or may not include extraction of the teeth, bone grafting to improve bone volume and soft tissue grafting to improve gum quality. Often, sinus grafting may also be required. In our practice, this is mainly done by our experienced Periodontists.
2: Restorative phase of treatment – Once the implant is successfully integrated, then the restorative phase can start to restore the missing teeth. This will mainly be done by your referring dentist or for more complicated treatment, our Prosthodontist.
Timing and sequence of treatment
1. Consultation
2. Implant surgery
3. Post-operative appointment
4. Hand torque appointment – generally 8-12 weeks post-surgery. This is to check that the implant is integrated. (At times, second stage surgery is required to uncover the implants that was placed prior to the Hand torque appointment)
5. Restorative phase – You will return to your restorative dentist (or Prosthodontist). Although highly dependent on the complexity of treatment 2-4 appointments will be required until the final insertion of the crown/bridge.
6. Ongoing implant checks – It is most important the implants are well maintained to prevent future complications. The intervals for these checks are varied depending on individuals.
More Information

For Dentists